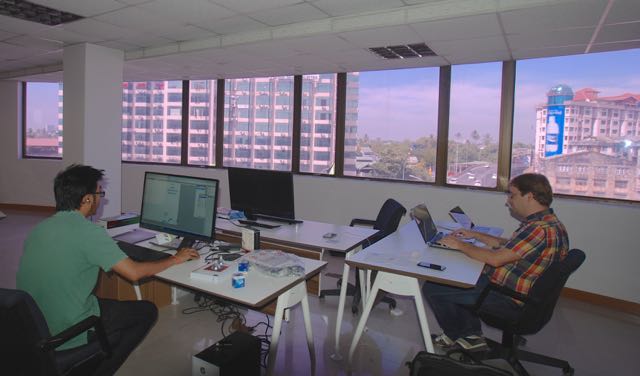 In addition to my work for Frontier Marketeer, I was co-owner and founder of Young Guns Media, a full service communications agency operating from Yangon, Myanmar. Young Guns Media currently employs 5 people and is specialized in (I)NGO, non-profit and CSR communications.
With increased calls for value for money, and a more critical review of their projects, non-profit organisations operating in Myanmar need to increase transparency and accountability, showing clear end results to beneficiaries, donors and tax payers. This trend calls for a higher visibility of projects and clear communication on what they do and what they achieve. CSR programmes of large companies face similar communication needs. Without a thorough Visibility & Communications Plan and solid execution, the benefits of these programmes to Myanmar society remain largely unknown.
Young Guns Media was founded to help INGOs, international organisations, foundations, and CSR-minded companies communicate their contribution to the development of transitional Myanmar. We bring an exiting mix to the table: founders with international experience at agencies and in the media sector, a creative team of talented locals, and deep knowledge of the political, historical and cultural context. Young Guns can ensure a good fit with Myanmar culture, customs and traditions, while delivering international quality output and addressing potential risks. and sensitivities.
Young Guns is a full service agency:
Marketing & communications strategy
Public relations, media strategy & media contacts
Crisis communications management & prevention
Online & Offline Marketing communications tools
Social Media (content & community management)
Film: Promotional movies, commercials and Video News Releases
Presentations, animations
Young Guns has easy access to relevant channels and tools. Young Guns is flexible and offers short lead times and little overheads. This allows us keep rates well below international agency standards. Clients include organizations such as STEP Democracy/IDEA, Heineken, Dutch Embassy/Arcadis, GIZ and KBZ Bank.